By Sherri of
Sew Betty and Dot
This is the first in a series of blog posts focusing on a particular aspect of a garment's design.
Today we look at pockets, those oh-so-handy (pun intended) applied elements that began as a practical solution to carrying around necessities and then began to take on a design or decorative purpose over the ages. The pockets below are clearly just decorative! (Or maybe a small lipstick and one house key will fit?)
The word "pocket" is derived from the Anglo-Norman word "pokete," which means small bag or pouch. And the first pockets were indeed small bags sewn onto a thin band that was then tied around a woman's waist, usually over her shift and under her petticoats (men's pockets were sewn right into seams and linings)--women's dresses did not have pockets as we know them, sewn into/onto a garment, until the eighteenth century. Remember, dresses were full and wide-shirted, with petticoats and/or panniers and hoops under them. A pocket could be worn with no interruption to the line of the dress itself.
And these tied-on pockets seemed to have held quite a lot: handkerchiefs, needle kits, combs, pocket-books (small diaries), snuff cases, scent bottles (often held up to the nose to block out some of the unpleasant odors associated with urban living), and sometimes even small food items (!). Pockets were often hand made and frequently made by friends as gifts.
When fashions changed to the more straight up-and-down form familiar from the Regency period (Jane Austen, anyone?), the tied-on pockets, which added bulk, no longer worked: voila, the reticule (a very small, often drawstring bag) was born.
By the 1840s, as fashion changed again and dresses and skirts became full again, they began to have pockets sewn into the seams. (All of the pocket history comes from the
Victoria and Albert Museum
, which, in addition to being one of my very favorite museums, is a fabulous fashion/costume resource online.) But enough history: let's look at some gorgeous vintage sewing patterns where the pocket is prominent.
Butterick 3918:
Dresses from the 1920s--again, with straight up-and-down lines, for the most part--didn't lend themselves to pockets. The dress above (late twenties/early thirties) has small diagonal patch pockets, not terribly noticeable. In the 1930s: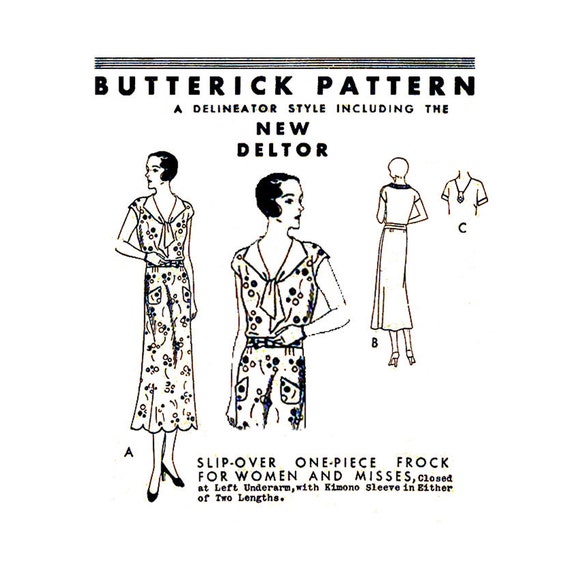 Butterick 3918:
Patch pockets, often relatively small...
And an evening dress with tiny decorative pockets!
Pockets became more decorative in the 1940s; you often see contrasting colors or bias pockets, or designs where the pocket is a feature of the garment.
Enormous pockets!!! And then the 1950s:
And some Swingin' Sixties pockets:
Finally, 1970s pattern pandemonium:
Pockets! Pockets!! Pockets!!! It's a Pocket-Palooza!
Tell us in the comments: which pocket-centric pattern would YOU be most likely to wear?