by
Sew Betty and Dot
Are you ready to dance the night away? Let's go!
Part One of the "Let's Promenade" ended with the 1940s, when proms began to be more elaborate and more of a "dress-up" affair than they had in previous decades. In the 1950s, the prom developed into the event with which most of us are familiar (whether we went to the dance or have watched any number of movies—think about Grease).
The postwar economy in America was booming, and with it the concept of "the teenager" became more prevalent. Teens now had more leisure time, and this stage in life was considered unique: no longer a child, not yet an adult. "Teen" magazines proliferated (Seventeen began publishing in 1944, and 16 Magazine in 1958—it was the perfect place to get all the news about the cutest singers and actors, and it spawned a host of similar publications.) And the prom came to take on a new importance as a not-to-be-missed teenage milestone.
While many proms were still held in crepe-paper decorated school gymnasiums, they also began to be held in hotels and country clubs. Boys often wore white dinner jackets and black bow ties. And the girls? Tulle, tulle, and more tulle! Dresses were often strapless, sometimes floor length but frequently princess length and quite often had very full skirts (but not always!).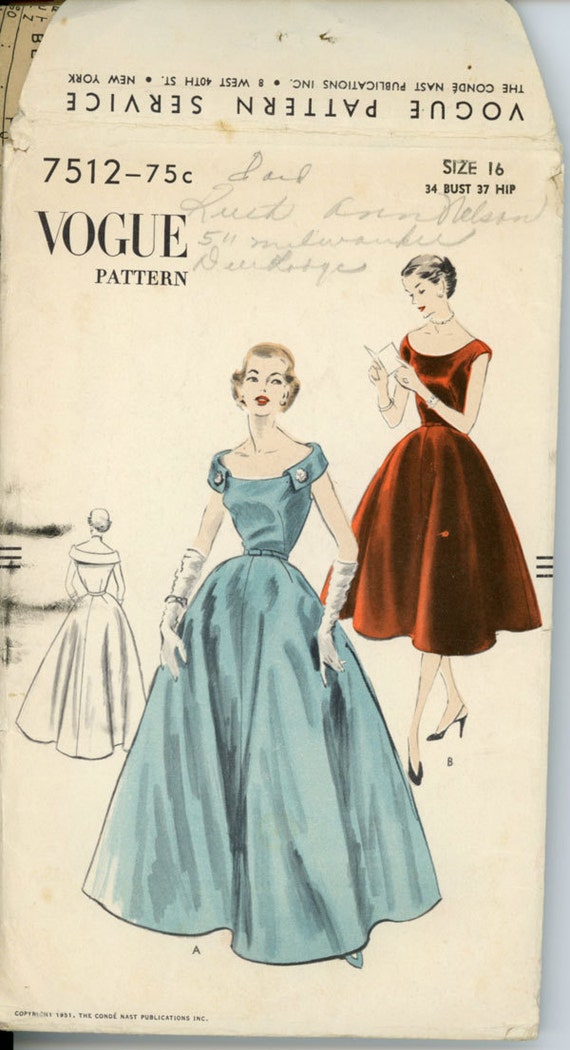 Vogue 7512
Wraps (again, often made of tulle) and gloves completed the look (topped by a corsage, of course).
In the early 1960s, styles of the fifties carried over—although the hair got a LOT higher!--but Jacquelyn Kennedy's elegant style had a huge influence on fashion as the decade progressed. Empire-waist dresses with long straight(er) skirts came into vogue.
As the decade progressed, just as cultural mores began to relax, the range of styles available to girls seeking to look their best on that special night grew wider. Hair done up in beehives, bubbles, and flips; dresses with sheer sleeves, metallic fabrics (so itchy!), baby doll dresses—but tulle was still a popular choice for prom.
Next week we'll see what changes the 1970s to Prom.